EDITEURS DIVERS
Page 1

Retour à la liste livres de poche
En cliquant sur les images2 ci-dessous vous obtiendrez une version agrandie de celles-ci
Click on picture to enlarge
PAN-Books
Pan n° 213 - 1952
OUT THE SILENT PLANET PAR C.S. LEWIS

Distinguished Novel of Space-Ship Adventure







Pan n° 253 - 1953
VOYAGE TO VENUS PAR C.S. LEWIS

Novel of Strange Adventure on Another World
By Author of "Out the Silent Planet"



Pan n° 297 - 1954
SPACEWAYS PAR CHARLES ERIC MAINE

Mystery Story of a Very Near Future

Couverture de Gerard Quinn


Pan n° 321 - 1956
THAT HIDEOUS STRENGHT PAR C.S. LEWIS

By Author of Out the Silent Planet and
Voyage to Venus



Pan n° 369 - 1956
CHILDHOOD'S END PAR ARTHUR C. CLARKE

Story of Peace on Earth Enforced by the Overlords of Space

Pan 437 - 1958
JOURNEY INTO SPACE PAR CHARLES CHILTON

The Story of the Record-Breaking Radio Serial

Couverture de Gordon C. Davies
TOBY PRESS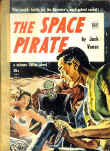 1953
Couverture de Don Sibley (?)
THE SPACE PIRATE PAR JACK VANCE
Five Worlds Battle for the Universe's
Most Potent Secret!


MERIT BOOKS
NEWS STAND LIBRARY
CURTIS WARREN (British Edition)
PANTHER BOOKS (British Edition)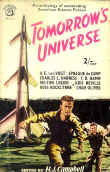 N° 101 - 1953
TOMORROW'S UNIVERSE
Une Anthologie de H.J. Campbell
Recueil de nouvelles. Comprend
les récits suivants :
Heritage par Charles H. Harness
It Pays to Advertise par Kriss Neville
Ticking His Life Away par T.D. Hamm
M33 in Andromeda par A. E. Van Vogt
The Immortal par Ross Rocklynne
The Shore of Tomorrow par Chad Oliver
The Soaring Statue par L. Sprague de Camp
Exterran par Milton Lesser
LEISURE BOOKS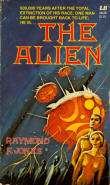 N° 444 - 1951
THE ALIEN PAR RAYMOND F. JONES
500.000 years after the total extinction of his race, one man can be brought back to life ; he is The Alien
Quelques commentaires critiques sur les ouvrages ci-dessus
VOYAGE TO VENUS par C.S. Lewis : une lutte se livre sur Perelandra (Venus) entre la divinité "tordue" qui domine la Terre et les dieux jeunes de Venus. Ranson, de retour de Mars et dont on a fait la connaissance dans "Le Silence de la Terre" parviendra-t-il à faire triompher le bien ? Une oeuvre mystique originale, deuxième volume de la trilogie de C.S. Lewis.
Page : 1, 2, 3, 4, 5, 6, 7, 8, 9, 10, 11, 12, 13, 14

[introduction] [livres en langue française] [magazines français de SF] [paperbacks & livres reliés américains] [pulps et magazines américains] [ouvrages de référence] [i romanzi di urania] [liens] [mises à jour]